PET OWNER RESOURCES
Dr. Sue has compiled some of her most useful articles, tips and more.
FAQ ABOUT CHEMOTHERAPY IN PETS
In veterinary oncology, chemotherapy is often recommended to control a pet's cancer, prolong survival and maintain a good or even excellent quality of life. What risks should clients know about, and what can they expect during the process? This client handout contains insights from Dr. Sue Ettinger, or "Dr. Sue Cancer Vet," as her clients call her.
DOWNLOAD
---
HELPING A PET THROUGH CHEMO AT HOME
The good news? 80% of pets have little to no side effects from chemotherapy treatment. And of the 15 to 20% that do, they are often not severe. So, whew. Still, being prepared for any signs of illness or side effects goes a long way to reassuring clients after a cancer diagnosis. Use this handout, developed by oncologist Sue Ettinger, DVM, DACVIM, to help walk clients through how to care for their pet before, during and after chemotherapy.
DOWNLOAD
---
FAQ ABOUT METRONOMIC CHEMOTHERAPY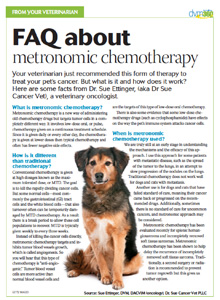 Metronomic chemotherapy is becoming a common way to treat some forms of cancer in dogs and cats. To help inform pet owners about this form of treatment.
DOWNLOAD
---
THE DOG CANCER SURVIVAL GUIDE
If your dog has cancer, you need this book. No matter what you've heard, there are always steps you can take to help your dog fight (and even beat) cancer.
PURCHASE