Should you treat a patient as if it were your own pet?
13 Mar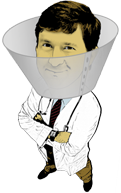 Should a veterinarian treat a patient as if the pet were her own?
Last year I was asked to do just this by clients I had just met. But making decisions as if a pet is your own is hard thing to do. What I may choose for my pet may not be right for someone else.
Case in point: Paige.
---